They offer the best customer service and satisfaction with flat rates that are competitively priced. We have late models of Town Cars, SUVs, and stretch limousines for all your ground transportation needs.
A prom is an important event for young adults these days, and Prom is a very memorable experience for teens. A beautiful limousine pulled up to their house with a professional chauffeur driver. Our limo service will ensure that your children are safe and sound.
Our clients will have a memorable experience beyond our reliable and prompt transportation. Our passengers can relax in a comfortable, relaxing, and safe environment that allows them to let go of all their worries and enjoy the company of family and friends or alone. You will want to arrive safely whether you are planning an anniversary, birthday, theatre trip, or an elegant night on the town. We want to make your event memorable by providing the right kind of transportation. We are the party bus company to call if you need a party bus. For your special occasion, we offer high-quality limousine services.
Prom season 2023 is just around the corner, and now is the time to secure a luxury carriage large enough to transport the entire party from one Mercer County, NJ, destination to another on the big night.
A night-out limo service in Mercer County, NJ, offers the best solution. You can have many advantages with our NJ nightlife limousine services.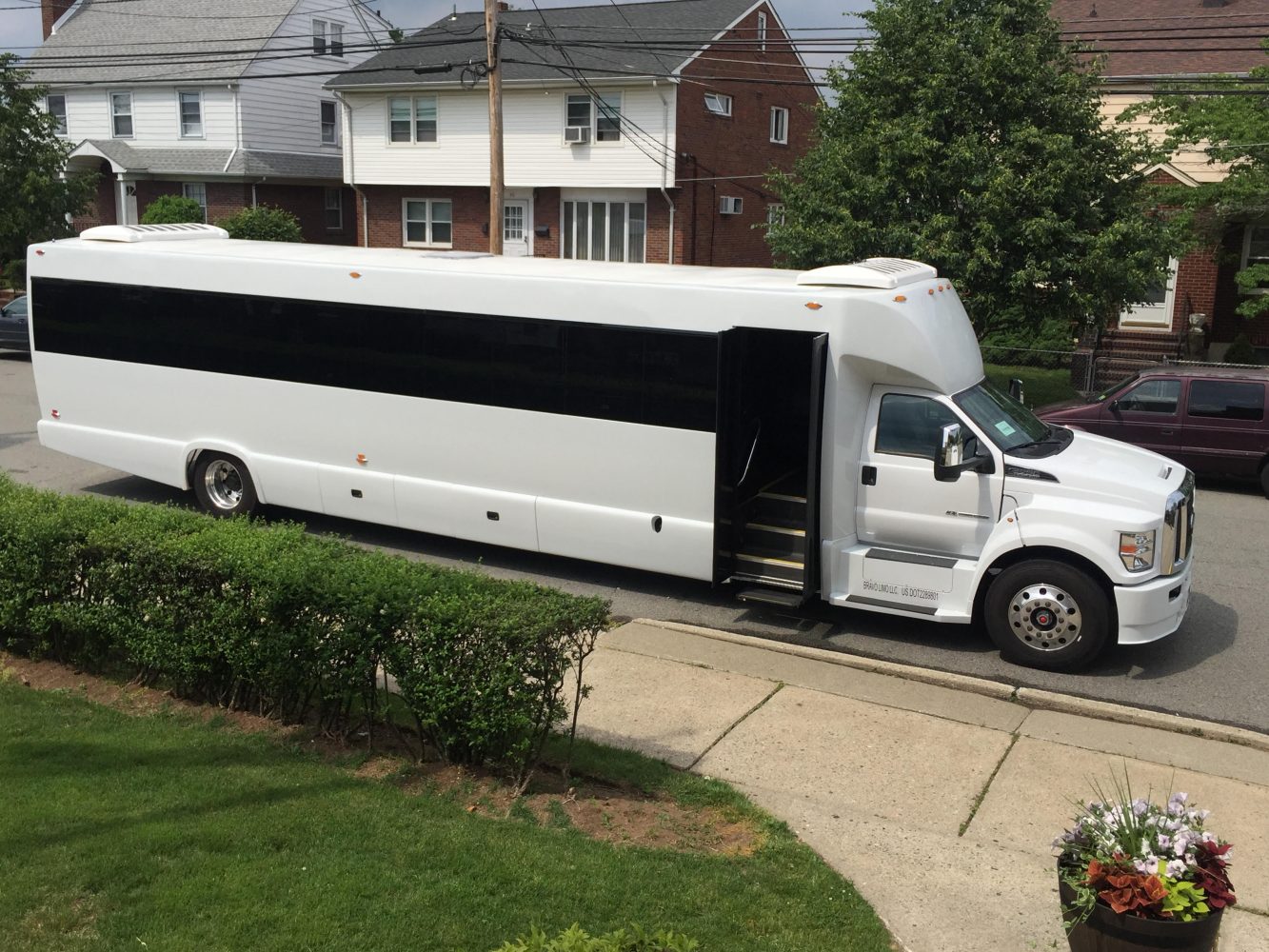 A bus can be rented for your wedding, and it is an affordable option that will help make your day run smoothly. We don't charge an hourly fee and have a minimum of three hours; instead, we only charge one flat fee for each party bus. This is how a typical Mercer County party bus rental works.
Imagine you are planning the best night out party. It's a great idea to make your travel experience memorable. Our Mercer County, New Jersey, charter bus and coach bus rentals are affordable, with exceptional luxuries that will add a special touch of elegance to your travel experience. You can choose to have your NJ coach bus equipped with as many as 61 seats or customize it according to your needs. We have several bus options for groups of friends, family, and colleagues. A local list of recommended nightclubs, casinos, and live shows is also available. This long list includes many great places to visit with family and friends.
We can provide the best Mercer County limousine services in NJ if you are planning a wedding. Our professional chauffeurs will ensure that you arrive on time at one of the most critical events in your life. We will be there to help you celebrate your bachelor/ette party. Party buses and hourly Mercer County Limos are outfitted with all the fun amenities that make your night unforgettable. These include fiber optic lighting, mirror ceilings, dance poles, wet bars, and dual-screen DVD players.
Wraparound leather limo seats, large-screen TVs, and other features create a fantastic ambiance. Our experienced staff will provide excellent customer service and top-quality party buses in Mercer County. We will go above and beyond to ensure you and your guests have an unforgettable time.
We pride ourselves on offering some of the best limo services in Mercer County. We are committed to your satisfaction and guarantee it. Our stretch limousines are kept spotless, and regular maintenance is performed to maintain their safety and comfort. Nothing is worse than getting into a stretch limousine to find dirt and garbage between the seats.
You will look great whether you go out with your significant other or friends. You can start the celebration with a champagne toast and then party the night away on the ride home. Depending on the Mercer County limo rental or Mercer County party bus rental, your party can enjoy disco ceilings with a lighting show, flat-screen TVs, and speakers with Bluetooth/AUI connections. Let's start this party!
Limos of all types are available to add that extra touch to any Mercer County wedding or other New Jersey event.
We can help you travel in style in one of the most popular cities. We provide luxurious limousines and top-notch service that your friends, family, and associates will love.
High school prom night is one of my most memorable memories. The most anticipated night of the year's preparation begins weeks in advance. You plan who you will go with, what you should wear, how you will get there, and so on. Each moment should count towards making the night memorable, unique, and, most importantly, safe. Although you might be concerned about your child driving home late on prom night, hiring a prom limousine service can make the event unforgettable for the teenager. Parents will also have peace of mind knowing that their child is safe.